History of Berrong-Oakley House
On top of a hill just off of Main Street in Hiawassee, hidden behind trees and shrubs, you can see the roof line of a house peeking out. This house is easily one of Hiawassee's best-kept secrets and has been for decades. However, the historic Berrong House has finally come into the spotlight again as the City of Hiawassee announced that they had reached an agreement with the owners to purchase and save the house, offering management of the property to the historical society.
The historic Berrong-Oakley house in Hiawassee, GA is one of the few remaining historic homes left in the city. The home was built by J. Miles Berrong for his wife, Maggie Corn Berrong. The home was built around 1905 on top of a small hill, overlooking the city of Hiawassee and the Hiawassee River Valley, which was flooded in 1942 by the TVA when they built the Chatuge Dam.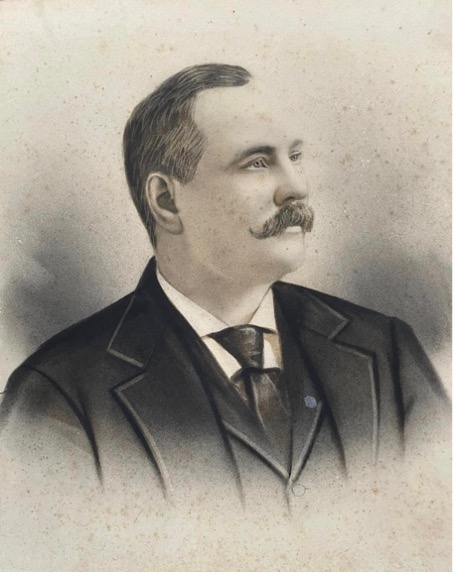 J.Miles was born in 1860 to Jesse & Susan Chastain Berrong. J. Miles was a local merchant and dealt in real estate as well as being part owner of the local Berrong- Johnson Copper & Pyrite Mine. He received his education from Tallulah Academy in Rabun, GA. In 1985, a biographical sketch of his life was included in 'Memoirs of Georgia' and described him as a man of strong and forceful personality… (He is) likely to secure any office of distinction…he is already a conspicuous figure in politics and makes his influence felt.' In 1893 he was appointed United States Commissioner at Hiawassee. He was also a member of the Masonic Order, serving as Worshipful Master and Secretary of Unicoy Lodge No. 259.
Miles first married Ms. Lillie Jane 'Kitty' McConnell (born 1862), sister of the Rev. Dr. FC McConnell and daughter of William Ross & Jane Christine McConnell. They lived on Berrong St., just past the hardware. Together, they had three children, Fielding Pope, Olive Christine, and May Belle. Sadly in 1895, Kitty Berrong passed away during childbirth to their fourth child. She is buried at Osborn Cemetery.
After Kitty passed, J. Miles donated their home to the Hiawassee Academy, and it was used at the girl's dormitory building. He moved back to Visage (Hightower) where he would meet Maggie Corn. Mrs. Maggie (born 1870) was the daughter of John Heatherly Jr. & Sarah Dillard Corn. After their marriage in 1899, J.M. would build a new house in Hiawassee, now known as the Berrong House. Together, J.M. & Maggie had three children, with only one living past birth, Susie Berrong.
Maggie was also a notable figure locally. She received her education from several schools across the state, inclu
ding Hiawassee High & Jr. College, Cox College, & the University of Georgia. Dr. Rev. F.C. McConnell (namesake of Truett-McConnell College & state religious leader) said Mrs. Maggie was the first woman from Tow
ns County to attend college and further her education. Mrs. Maggie started her education career at the age of 17. Following WWI, she led the illiteracy campaign in Towns County. She is most remembered for her home demonstration work, which she took over in 1920, helping further the education, resources, and knowledge of the poor farm families of NE Georgia.
The house was built around 1905 by local contractor Bart Lochaby. Mr. Lochaby has a noted style on the houses he built, having been inspired by the homes he saw while serving in the Civil War. His homes always included gables, gingerbread trim, and horseshoes. He built most, if not all, of the historic homes that once stood in downtown Hiawassee. However, due to a lack of local historic preservation, the Berrong-Oakley house is the last known home still standing that he built.
Following J. Miles' death in 1939, Mrs. Maggie would split her time between her home in Hiawassee and her daughter's home, Susie Oakley, in Washington D.C. After Mrs. Maggie's death in 1961, the home sat vacant for several decades, only being occasionally used as a vacation home for the Oakley family. Sometime in the 1980s, Tom Oakley Jr. lived in the home for several years. After he moved out, the home once again sat empty, only being used as a vacation home for the Mary Sue (Oakley) Nelson family. In recent years, the home sat completely vacant.
For the past decade, both the City of Hiawassee & Towns County Government has worked to try and acquire the Berrong-Oakley House from the Nelson Family, descendants of J.Miles & Maggie Berrong. In the early spring of 2023, the City of Hiawassee was able to secure a contract to purchase the home from the Nelson family. Unfortunately, the home had been recently vandalized for the first time with several historic details being stolen, including mantels, doors, and door hardware. This prompted the Nelson family to sell the home so that it could be saved from deterioration. After an investigation by the local police department, some of the stolen property was recovered to be placed back in the home.
If you are interested in donating to the Berrong-Oakley House. please CLICK HERE.